P

ASTOR AND MRS. BRIAN K. BEAVER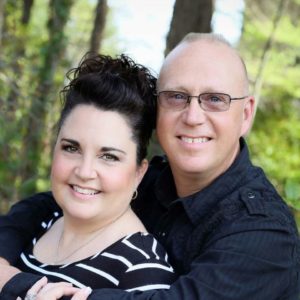 Pastor Brian Beaver was born in Rowan County and grew up in Statesville, North Carolina. After attending Pheiffer University, on a golf scholarship, he entered the United States Mrine Corps.
It was there; at Parris Island, South Carolina; Pastor Brian realized he was a sinner needing a Savior.
During his eight years in the Marine Corps, Pastor Brian married his longtime girlfriend and God called him to preach.
Over the past 28 years of ministry, Pastor Brian has graduated from Ambassador Baptist College and has served in the senior pastorate and youth pastorate positions. As an Evangelist he and his family have traveled extensively around the world with Beacon Ministries International. With his Graduates Degree of Theology and his military background God has given Pastor Brian the tools he needs to serve, train and lead others for the cause of Christ.
Mrs. Veronica was born in Charlotte, North Carolina and raised on Lake Norman. At an evening youth activity, while visiting a church, Lady V. heard and understood the complete Gospel. Becoming aware of her need for the Savior, at age 17, she accepted the precious gift of salvation.
Mrs. Veronica has had the pleasure of serving in many different ministries, but
by Pastor Brian's side traveling with the family she will always treasure.
During this time Pastor Brian and Mrs. Veronica became parents to a daughter, Hannah Marie in 1991 and a son, Seth Hayden in 1993. In June of 2013 Hannah married Eric Walker and they are now proud grandparents of three wonderful grandchildren. Tripp age 13; Riley age 10; and Tristan age 6. The Beaver family feels so very blessed to have served in short term missions. God brought Ephesians 3 alive as He radically changed their philosophy of ministry altogether. Along this journey, each chapter of life has drawn the Beaver family even closer to the Lord. They live each day as though it could be their last. "Life is to short, we won't waste time for the cause of Christ."